Nalashaa Solutions Commitment to ISO Software Development Standards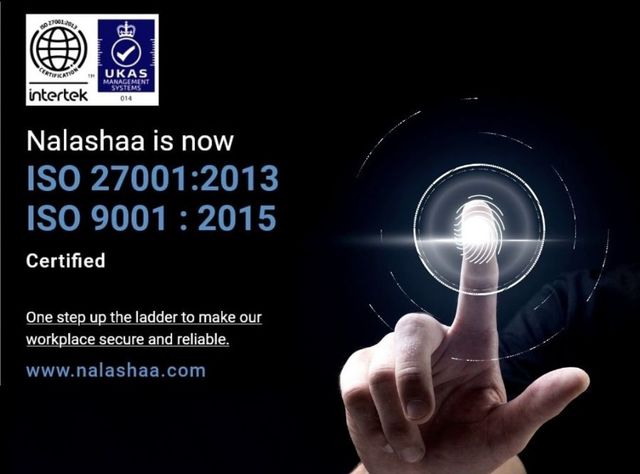 Nalashaa Solutions is a software development company that started operations in 2012. Over the past 10 years, it has become a recognized and respected brand in healthcare IT services (Healthcare Provider Solutions and Payer Solutions). ), cloud engineering, data analysis services, mobile application development, RPA services and IBM I series upgrade services.
Driven by quality and adhering to information security – The New Jersey-based company has more than 200 technocrats, business developers and marketing experts. The company has a proven track record as an innovation hub for technology development, with more than 450 successful projects completed across multiple industries including finance, manufacturing, healthcare, education and fitness.
Nalashaa Solutions' customer testimonials demonstrate its commitment to software quality and security management standards. As a result of their tireless efforts to ensure quality and safety, it has become part of a prestigious group of organizations recognized by ISO.
Certified for quality – Nalashaa's ISO 9001:2015 certificate further highlights the stringent guidelines it has adopted in its operations. It is now well positioned to provide its customers with sustainable, high-quality software deliverables guided by the ISO-recognized Quality Management System (QMS).
In addition to reassuring its customers with high-quality software development services, the company also facilitates interactive sessions with its new customers with the aim of understanding and resolving their pain points.
Certified for Information Security – The ISO 27001:2013 certificate establishes a list of protocols that allow organizations to establish critical control systems for specific business processes. Nalashaa's acclimatization to the ISO 27001:2013 paradigm highlights it as an organization committed to protecting information security.
Adherence to ISO's Global Information Security Management Systems (ISMS) is a desired attribute that end companies and independent software vendors (ISVs) look for in a potential service partner. This makes Nalashaa a trusted destination for organizations looking for the perfect partner in a software development business.